Focused Talent Types
VC funded Silicon Valley tech companies require an agile team of skilled solutions providers to make their technologies and intellectual properties materialize. Unlike most recruiting firms that is focus on filling all positions, Talent Hound focuses on just a few key candidate types to ensure that they all meet the highest standards before being presented to the company. We actively engage high-level Software Engineers, QA Engineers, Frontend/UI/UX Developers, Product Managers, Program Managers, Project Managers, and Business Analysts.
60-Day  Love-Them-or-Leave-Them Money-Back Guarantee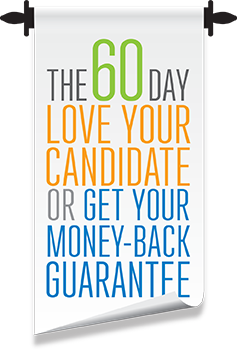 We are committed to customer satisfaction. We pride ourselves on being a corporate matchmaker whereby success is defined by mutual connection. Anything less does not meet our criteria for successful. However, some connections are destined to not align. This is why we offer a money-back guarantee on commission for any candidate that does not stay with the company past 60-days. Consider the 60-days a lengthy trial period with minimal risk.